As the clock struck midnight EST on July 1st, the NBA officially entered the moratorium period. During this time, free agents are officially allowed to start communicating with teams to negotiate contracts. Players and teams, however, are only allowed to verbally agree to terms of a contract, but cannot officially sign the agreed upon deal until July 6th. So, while these deals have agreed upon verbally, they are not law just yet (a la DeAndre Jordan and the Mavs in 2015). A lot of deals went down in the first 12 hours, and there were a few surprises.
Paul George stays with Thunder (4 years, $137 million)
The biggest deal of the night came from Paul George. To a lot of people's surprise, he agreed to sign a 4 year, $137 million max contract to stay with the Oklahoma City Thunder with a player option on the 4th year. This was a huge win for the Thunder. George had requested a trade last summer, essentially turning down a $220 million max contract because he wanted out of town. He specifically stated that he wanted to return to his hometown and play for the Lakers, but the Pacers ended up trading him to the Oklahoma City Thunder for Domantas Sabonis and Victor Oladipo. This was a high price to pay for what seemed like a one-year rental of Paul George before he headed to LA. Instead, towards the end of the season, it seemed as if the Thunder were playing their cards right and treating George like royalty, as he had made several statements indicating he would possibly stay with the Thunder. OKC ultimately would have never gotten a meeting with Paul George this summer, but because they were able to woo him throughout the season during their rental, they were able to retain him. He didn't even give Magic Johnson and the Lakers a meeting. Instead, he was partying with Russell Westbrook.
Chris Paul stays with Rockets (4 years, $160 million)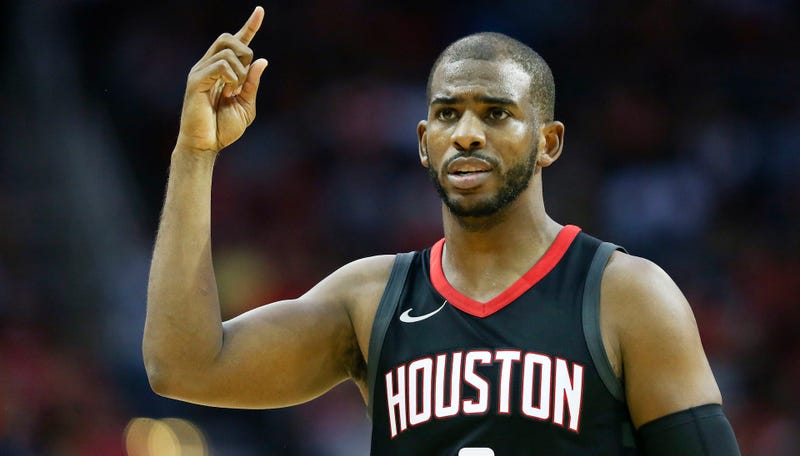 Chris Paul also agreed to re-sign with his team, the Houston Rockets, on a 4 year, $160 million max contract. The Rockets seem to be reloading, as they believe that they would've been headed to the NBA Finals to win a title if Paul did not get injured late in their series against the Warriors. This a great move for the Rockets if Chris Paul can stay healthy, as he has struggled to stay healthy throughout his career and he's not getting any younger. The Rockets are hoping that they can now re-sign Clint Capela.
Deandre Jordan -> Mavericks (1 year, $24 million)
DeAndre Jordan officially signed with the Dallas Mavericks, as expected. After trade talks between the Clippers and Mavericks seemed to die out, Jordan decided not to opt into his contract, which left a lot of Mavs fans in limbo. Jordan, however, agreed to sign a 1 year, $24 million with the Mavs. Essentially, he would sign the same deal that he would've had if he had opted into his Clippers deal. This way, the teams were able to bypass a trade with the Clippers and ensure that Jordan ended up with Dallas. This was great news for Mavs fans. It was surprising that Jordan was willing to take a one year deal, but it gives the Mavericks a lot of flexibility moving forward. Next summer, the Mavericks will have close to $87 million in cap space. That could be great leverage for the Mavericks next year in free agency, as next summer is filled with big-time stars and the Mavs would be able to take on 2 max contracts. If Luka Doncic and Dennis Smith Jr. have a great season, the Mavericks could be incredibly lucrative to 2019 free agents since their best players would essentially be on rookie deals. With Jordan taking a one year deal, the Mavericks now have a ton of flexibility in an incredible free agent pool next year. Not to mention, DeAndre Jordan will also be a huge help to their young playmakers, Donic and Smith Jr., as they look to compete for a playoff spot in the West. This also helps them test out Jordan to see if he fits in their system before they sign him to a long-term deal.
Trevor Ariza -> Suns (1 year, $15 million)
Trevor Ariza surprisingly agreed to sign a one year, $15 million contract with the Phoenix Suns, eating up all of their available cap space. A lot of people around the league thought he might take the minimum deal with the Warriors. This is particularly a blow to the Houston Rockets, as Ariza was a large part of their playoff run and was a big reason why they were able to match up with the Warriors so well. His defensive prowess is unprecedented, and the Rockets will miss his ability to knock down open threes. He will also be a huge help to the Suns, who desperately need a veteran presence like Ariza on their young squad and struggled defensively last year.
Kevin Durant stays with Warriors (2 years, $61.5 million)
Kevin Durant, as expected, has agreed to sign another 2 year max deal with the Warriors with a player option on the 2nd year. This is not a surprise, as Durant stated all year that he would re-sign with the Warriors when this time came around. There's no reason for him to leave after the Warriors just dominated the NBA for the 2nd straight year, as he waltzed his way to 2 NBA titles and Finals MVPs. Players like Durant and LeBron James like to sign these 1+1 deals because it allows them to be flexible every summer if they want to leave. Since they are 2 of the best players in the league, they don't need the security of a long-term contract, as they expect to sign a deal worth that kind of money every year going forward.
Other Agreements:
Nikola Jokic stays with Nuggets (5 years, $147 million)
Will Barton stays with Nuggets (4 years, $50 million)
Rudy Gay stays with Spurs (1 year, $10 million)
Fred VanVleet stays with Raptors (2 years, $18 million)
Jerami Grant stays with Thunder (3 years, $27 million)
Joe Harris stays with Nets (2 years, $16 million)
Aron Baynes stays with Celtics (2 years, $11 million)
Gerald Green stays with Rockets (1 year, $2.4 million)
Derrick Rose stays with Timberwolves (1, year, $2.2 million)
Marco Belinelli stays with Spurs (2 years, $12 million)

Doug McDermott -> Pacers (3 years, $22 million)

Ed Davis -> Nets (1 year, $4.4 million)

Nik Stauskas -> Blazers (1 year, $1.6 million)
Omri Casspi -> Grizzlies (1 year)
Glenn Robinson III -> Pistons (1 year)
Stay tuned for an update to the Free Agency Tracker tomorrow.