The Dallas Mavericks entered the offseason with high hopes after a disappointing 24 win season. Via a trade with the Atlanta Hawks, they were able to jump up to the 3 spot in the NBA draft to snag who Mark Cuban called "the number one guy on [their] board." This player was Luka Doncic.
Doncic is a 19-year-old 6'7 playmaker from Slovenia. He began playing for Real Madrid in 2014 at the age of 15 and was destined for the NBA. In his final season with what many say is the best non-NBA basketball team in the world, he rose to the occasion to lead his team to a EuroLeague championship. He also was the youngest player to receive the EuroLeague MVP and EuroLeague Final Four MVP awards. Needless to say, he dominated the highest basketball competition outside of the NBA at the mere age of 19, which is incredibly impressive.
Doncic thrives as a playmaker and his goal every time down the floor is to get his teammates open looks. His pristine passing ability in the EuroLeague was unprecedented at his age. One of his signature passes that he made throughout the season were wraparound passes off a pick and roll to an open man in the corner. In addition, his ability to penetrate and draw defenders opens up a lot of dump off passes to cutting players close to the rim. It's hard to teach vision like that, which will only benefit Doncic as he works on other parts of his game.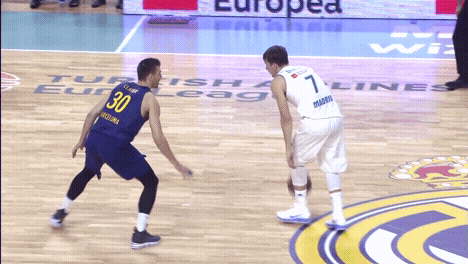 Dennis Smith Jr., the Mavericks' 9th pick in the draft last year, felt like an absolute steal for a team that desperately needed help. In his rookie year, he averaged 15.2 PPG, 5.2 APG, and 3.8 RPG while shooting 39.5% from the field. The Mavericks see a lot of room to grow in DSJ. With his unique shifty moves, leaping ability, and touch at the rim, he has a solid foundation. Where Smith needs to improve offensively is in his jump shot and shot selection.
Here are a few interesting DSJ stats. 74.5% of his shots came off of 3 or more dribbles. So, he often finds himself dribbling a lot to create his own shot. He made about 43% of those shots, which is not where the Mavs want him to be. That number jumps up to about 48% when he takes less than 3 dribbles. When he was within 3 feet of the basket, he shot close to 61%, which shows that he can finish around the rim if he's given the opportunity. When it came to three-point shots, he struggled as he only shot 31% overall. However, in catch and shoot situations he shot 37% from the three-point line, which is much more ideal and he can build on that. When he didn't have a defender within 6 feet of him, he knocked down 37% of his shots. On the contrary, when a defender was within 6 feet of him, he shot 29%. In other words, if he's open, he shoots better. However, he shot only 27% from the three-point line when he pulled up off the dribble. He also shot just 19% from the three-point line with less than 7 seconds left on the shot clock. That simply just goes to show that the Mavericks often ran out of options in an offensive possession, and DSJ would have to settle for a bad shot late in the shot clock.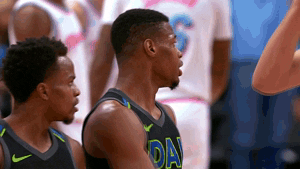 Obviously, the Mavs would like all of those percentages to be higher. For Dennis Smith Jr., improving his jump shot can take him from being a good player to a great player. Right now, he plays similar to Damian Lillard without as great of a jump shot.
Here's where Luka Doncic comes in. Doncic's ability to find open men around the perimeter and dump off passes to cutting players compliments Dennis Smith Jr.'s game wonderfully. DSJ is an exceptional cutter and often can catch the ball close to the basket and finish. As the stats show, DSJ is a much better shooter when it's off the catch instead of the dribble and when he's open. I expect Dennis Smith Jr. to have a chance to improve his jump shot drastically this year since he'll be open thanks to Luka Doncic's passing ability. Rick Carlisle might also put DSJ off the ball at times, with Luka running the offense. When Luka draws defenders, DSJ can cut to the rim and make defenders decide if they want to take away his back-cut or stop Doncic from getting to the rim. In his EuroLeague games, Doncic attracted so much attention with the ball in his hands that it opened up easy perimeter looks for his teammates. Luka's ability to penetrate and kick out to shooters will give DSJ more opportunities to improve his shot in these situations. It's simply up to Dennis Smith Jr. to improve his shot and optimize the opportunity he has in front of him playing alongside Doncic.
I would expect Dennis Smith Jr.'s numbers to rise this year, but I would urge Mavs fans not to be overly critical if it's not a huge leap. It takes time to consistently make shots in the NBA. It would be ignorant to think that Doncic won't help Dennis Smith Jr. improve his shot. In-game scenarios truly help players grow the most, and Doncic will give DSJ a lot more good looks than he had last year and prevent him from having to pull-up for bad shots.
This will be a year where Dennis Smith Jr. could make a leap in his progression. It might take some time to get used to playing alongside Doncic, but the pair could be a force to be reckoned with for years to come. Ultimately, if the Mavericks want to fight for a playoff spot, Dennis Smith Jr.'s improvement is what will get them there.